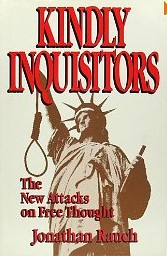 Kindly Inquisitors: The new attacks on free thought (1993) by Jonathan Rauch
Frances Widdowson published a review (The Kindly Inquisitors), some time ago, of this book on her blog. I haven't read the book but I like her review. These brief notes are based on her review.
In our civilised democratic society (not Iran, China, North Korea etc. where different forms of Fundamentalism are the main problem), the modern day equivalent of the Inquisition are the philosophies of Egalitarianism and Humanitarianism
ie. the principle of the Inquisition was that people with wrong or hurtful opinions ought to be punished for the good of society
Egalitarianism – the beliefs of all sincere people deserve equal respect
Humanitarianism – one must never offend
Taken separately and in particular when combined these outlooks undermine the pursuit of scientific truth by introducing a variety of mental and ideological barriers to free and open discussion. This is explained more in the review.
It is essential to learn the hard discipline of living with offence that will inevitably follow from this approach rather than fudging the quest for truth out of fear of offending others or being offended ourselves. Words might offend but as long it remains just words then we need to accept it and either argue back or move on, not try to censor it and to reject philosophies which attempt to censure open, vigorous discussion