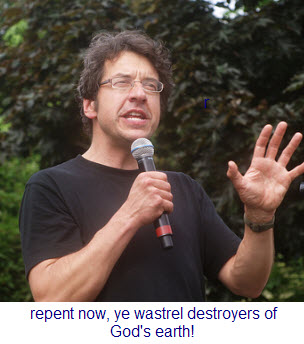 Time to Take Sides
Ha!  George Monbiot got one thing (almost) delightfully right in his recent article: The rapacious will not give up without a fight
"Humanity is no longer split between conservatives and liberals, reactionaries and progressives, though both sides are informed by the older politics. Today the battle lines are drawn between expanders and restrainers; those who believe that there should be no impediments and those who believe that we must live within limits."
I  had to insert 'almost' in my introductory sentence above, because the split  is still between reactionaries and progressives.   The 'expanders'  are the progressives, and the 'restrainers'  are the reactionaries, doomed to run behind, shouting and gesticulating.
In his article,  Monbiot is clear that economic growth must be curtailed.  In order to Save the Planet, humanity must "redefine itself"  and reject the idea that there will "always be another frontier" because "perpetual growth cannot be accomodated on a finite planet".
Well,  we still have at least a billion years  before changes in our Sun begin to make the planet uninhabitable.   (And by that time we'll have spread into other parts of the universe anyway.)   Given that it's only a few hundred years since all of humanity was dependent on a carbohydrate energy economy (ie  we depended entirely on human manual labour, augmented by animals, such as horses) , and in too many parts of the world that is still the case, it seems very odd to say that we are about to reach some sort of limit.  The reality is that we've only just begun.
Industrialization,  and the economic growth made possible by that,  is essential  to human liberation .  For most of human history, life has been brutish, nasty and short. Even at the best of times,  the vast majority  could only just manage to subsist  by spending almost every waking hour engaged in some from of back-breaking toil.   The industrial revolution changed all that and provided opportunities and possibilities which were not even dreamed of in the past.  And we're still only at the beginning.  A huge part of the planet has yet to industrialise.  Those of us who are already on the way, want to continue.
Continue reading 'Technology, development and c..c..c..climate change.'