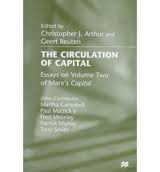 I'm in the process of reading some of the papers from The circulation of capital: essays on volume two of Marx's 'Capital' (1998). A number of the papers point to the relevance of Marx's Volume 2 to the current structures and ways in which modern capitalism is analysed. Other of the papers are helpful in explaining the dialectical method used by Marx in his analysis with the clear implication that that method is still essential today to analyse capitalism. So, I offer below an extract from the General Introduction as a preliminary guide to accessing this book.
My argument has been and remains that we need good guides to Marx. The reasons for this are becoming clearer:
– some modern authors build a bridge between the capitalism of Marx's day and modern capitalism
– much of Marx's work was published after his death and it needs editing and interpretation simply because it was rough drafts
– various translations from the original German are significantly different and some of the modern authors go to a great deal of trouble in sorting out those issues by comparing translations or going back to the original German
– Marx often wrote things in certain ways without explaining clearly why he was doing this. He didn't like to point out where his argument was heading because that would prejudice the rigour of his analysis. This makes him harder to understand to us spoilt moderns who are used to being hand held along the way.
– Marx is deep and hard to understand anyway, so we need all the help we can get!
Marx's Capital II, The Circulation of Capital: General Introduction
Christopher J. Arthur and Geert Reuten
EXTRACT
SCHEMATIC OUTLINE OF CAPITAL II
Marx's Capital Book II, 'The Circulation Process of Capital', is divided into three main parts. In Part One, Marx considers the metamorphoses capital undergoes in its circuit, namely as money capital, production capital and commodity capital. Of course, in normal conditions, this sequence is expanded into a regular imbricated set of sequences such that at any given time a different component of the total capital is present in each form.
In Part Two, Marx examines the circuit as a turnover. He shows how various components of capital (for example, so-called 'fixed' and 'circulating' complete their circuit at different rates; he argues that the influence of the circuit's periodicity, and the varying ratios of such components, must affect the annual rate of surplus value. In both these parts capital as such is treated; but it is not considered as a system of capitals; however, the reproduction of any given capital is necessarily bound up with the reproduction and circulation of the total social capital.
Thus in Part Three, when Marx considers reproduction, he examines the revolution of this totality which necessarily includes not only the intertwining of each individual capital circuit with others but the whole circulation of commodities, those commodities bought by the workers to maintain themselves as well as those means of production capitals sell to each other. On this basis Marx distinguishes two 'departments' of production: those producing means of production and those producing means of consumption. This very division, as well as the analysis of the relations between these departments, is one of the enduring achievements of Marx's work.
The relatively 'technical' character of much of Book II misled Engels, for one, into thinking that the argument concerns only relations between capitals; this is a grave mistake, for class relations are integral to capital and thus the matters dealt with here stand in intimate connection with its class basis; for example, capital's concern with shortening turnover time has consequences for the intensity of labour, and the very choice of criterion for discriminating departments is rooted in the necessary reproduction of class relations (as Mattick points out in Chapter 2).
Even if this Book II study is still one at a relatively abstract level, the phenomenal expressions of the abstract categories developed may be visible to the extent that the concrete is a simple expression of the abstract categories – but not if in this process of concretion the system inverts its fundamental logic in its appearances (for example, in interest or 'productivity of capital') or reverses its dynamic (for example, in the case of tendencies and countertendencies). Tony Smith, in Chapter 4, shows how many of the categories developed in Marx's Book II indeed find phenomenal expression; hence he can show how much of the Book II analysis can help us in understanding current developments in capitalism such as 'flexible production' …
INTRODUCTION TO THE ESSAYS
We turn now to outlining the sequence of essays in this volume. We begin with two papers that pertain to Capital II as a whole. Paul Mattick shows how Book II fits into the overall structure of Capital. He argues that, just as the social form of commodity exchange that formed the starting point of the analysis in Book I was unmasked as the social form of an exploitative class relation obscured from view by market relations, so in Book II Marx considers how that form is structured in terms of the circulation of capital. The circulation of capital as a totality among economic categories gives rise to the idea of 'the economy' as an autonomous system of forces rather than a feature of a particular form of social life with a particular class structure. Marx's analysis of reproduction in terms of the two departments, Mattick indicates, shows how the categories of the market lose their explanatory independence. In this context he shows the underconsumptionist explanation of economic crisis to be an untenable interpretation: effective demand is determined by capital accumulation. The schemes of reproduction then highlight the conditions for the possibility of economic crisis, along with the existence of capital as a class relation, rather than the issue of maldistribution of income or of disproportionality ­between departments of production.
In the following paper, Patrick Murray indicates that the purpose of Capital's middle volume is to deepen the analysis of the double character of the commodity (use value and exchange value) of Book I and to show that what circulates in a capitalist economy is capital. In stressing that commodities in capitalism are use values which have the specific social form of capital, Murray convincingly takes distance from the view, held by Sweezy for example, that use value is irrelevant to Marx's analysis. In this perspective his main focus is to debunk the 'commerce and industry' picture of the economy in capitalist society. This picture breaks down capital's circulation into a generalized circulation of wealth whose basic forms are money and commodities, buying and selling ('commerce'), accompanying a production process which, devoid of any determining social forces simply transforms material inputs to create new wealth ('industry'­). Murray points out that, oddly, this pictures leaves out capital itself. In criticising it he shows how the categories of the commerce and industry picture prove conceptually too 'thin' to grasp the circulation of capital; likewise 'thicker' co-involvements of use value and value must be acknowledged in order to comprehend capital, its turnover and reproduction, productive and unproductive labour, and fixed and circulating capital. For example the phenomenon of the material reshaping of circulatory functions (see Smith, Chapter 4 on 'lean production' delivery systems) would be unintelligible on the basis of the 'commerce and industry' picture. In an appendix, Murray shows that Ernest Mandel erred in claiming that Marx came to the conclusion that labour in 'service industries' cannot be productive because it is not 'concrete' and does not result in a free-standing product.
The next paper, by Tony Smith, directly relates Part Two of Book II of Capital to recent trends in contemporary capitalism and its apologetic. Marx here derives a drive to lower circulation time and circulation costs. Analysing the move towards so-called 'lean production' in the perspective of Marx's thesis, Smith concludes that this development corroborates the theory. Next he moves on to considering lean production from another perspective of the Book II analysis. Marx argues that in the circulation process capital accumulation is the independent variable and consumer activity a dependent variable. The defenders of lean production insist that, while this indeed holds true for the era prior to 'lean production', the reverse now obtains: information technologies allow manufacturers to trace changes in consumer desires accurately; and flexible production techniques allow firms to shift production rapidly in response to new consumer demands. So, they claim, true consumer sovereignty is now being instituted for the first time; the consumer is the sun around which the lean production system turns. If this claim is warranted, Smith allows, the Marxian perspective in this respect is refuted. However, building on Marx's account in Book II of the place of consumer activity in the circulation process of capital, he argues that overcoming conflicts in the relation of capital to consumers requires a thoroughgoing social transformation far beyond the possibilities of 'lean production'.
In his own paper, Chris Arthur calls attention to the significance of the introduction of the concept of 'circuits of capital'. He examines Marx's theory of the circuits of capital outlined in Part One (chs 1-4) of Book II. He traces the form of the circuit and shows how it may be viewed as the imbrication of three circuits. On this basis he argues that capital cannot be understood as a fixed form but only as the totality of functional forms through which it passes in its circuit; that is, capital exists as the identity-in-difference of all its functional forms, an identity established and maintained only in its movement through them. Such a view of the three circuits Marx distinguished he illuminates by outlining its background in Marx's knowledge of Hegel's Logic, and especially therein his theory of the syllogism which examines successively its mediation in the universal, the particular, and the individual judgments. In addition Arthur addresses a surprising feature of the recently published 1865 manuscript of Book II, namely the appearance in it of four circuits, not three.
Martha Campbell's essay examines Marx's explanation of the functions money must perform in the circulation of capital. In the first part of the paper she provides an important outline of the methodological frame of Marx's monetary theory of Book II, explaining why Marx adopts particular assumptions for his analysis (an analysis that runs in fact throughout Book II). From his analysis of turnover Marx concludes that capital must occupy all three of its forms simultaneously; although the money form is no less transient than the others, Marx demonstrates that money hoards are required by the needs of circulation, and this is the foundation of his explanation of the credit system. Capitalists transform their hoards into interest-bearing capital in order to gain an additional share of the social surplus value. As a result money capital is concentrated in banks and in the bond and stock markets. Campbell argues that, by analysing capitalist reproduction apart from the credit system, Marx shows that the possibilities for its disruption are not limited to the problems resulting from debt and the conditions of credit. In proposing that the credit system develops so that capital in its money form will bring in surplus value, Marx is rejecting the claim that it develops to solve the problem of the shortage or high cost of gold money. Campbell concludes that the credit system complicates rather than simplifies capitalist reproduction and renders it more precarious.
In Chapter 7, Fred Moseley examines Marx's reproduction schemes of Part Three of Capital II against the background of correspondence between Marx and Engels and the Theories of Surplus Value. He argues that the initial purpose of Marx's reproduction schemes was to refute Adam Smith's view that the price of the total commodity product of society is entirely resolved into wages plus profit plus rent; that is, entirely resolved into revenue with no component left to replace the constant capital consumed in production; he notes that Quesnay's Tableau Economique could have helped Marx in so doing. Important to this refutation, Moseley indicates, is the distinction between money which functions as revenue and money which functions as capital. Emphasizing that Marx extensively criticised classical economics' conception of capital as merely physical means of production, common to all types of economic systems, Moseley in the course of his paper contests Sraffian, or generally neo-Ricardian, interpretations of Marx which read his analysis in physical terms.
Finally Geert Reuten's paper examines the same Part Three from the perspective of Marx's method: is it akin to a modelling approach as we find it in modern orthodox economics, or does it rather fit into a systematic-dialectics methodology? More so than any other part of Marx's work, his theory of reproduction influenced orthodox economics: it laid important foundations for its later macroeconomics and theory of the business cycle. Why particularly this text? In answering these questions the major part of Reuten's paper is devoted to an examination of the systematic character of the exposition of Marx's reproduction theory, focusing on its procedure in laying out assumptions. Reuten concludes that, while the text may not be incompatible with a systematic-dialectical methodology, it is certainly defective in that respect; rather the textual evidence favours the view that Marx, in this part, takes a particular modelling approach.
The papers brought together here show differences in historiographic and analytical emphasis and this makes them complementary studies. Certainly many questions concerning Marx's Book II of Capital remain unanswered, an obvious example being why dialectics can be so prominent in Part One (Arthur) while trifling in Part Three (Reuten). All the authors agree that this work is crucial in understanding the trilogy of Capital and its method. Without this middle book we cannot grasp the juxtaposition of the analysis in the other two.