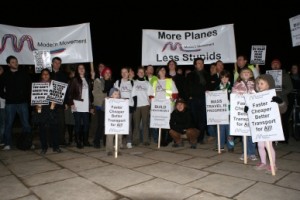 While the carbon cult killjoys demonstrated on Friday outside Downing Street against the third runway for Heathrow,  a counter-demonstration organized by Modern Movement was held nearby calling for more air travel. They are a group campaigning for 'faster, cheaper, better transport for all'.
To quote from "Our right to travel" :
"Mobility is at the centre of everyone's lives and the expansion of cheap flights in recent decades is one of the few tangible increases in the standard of living of most people. Whereas our housing stock has not improved much in either quality or quantity, and our railways and roads are undeveloped and congested, flying has plummeted in cost and has put weekend breaks within the reach of all. Now not only the rich can enjoy the freedom of flying, but we all can."
So the anti-flying campaign is just one more example of how green politics is hurting people.
More here and here . (Yes, it's the Spiked and Institute of Ideas crowd.)