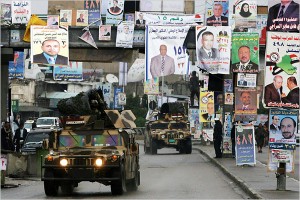 The Iraqi Provincial Election is now in progress. News reports so far, indicate a huge turn out from the 14 million registered voters, following a very active campaign process.   This time around, the Sunni population is participating, which is a huge breakthrough.
As mandated by the Iraqi constitution 25% of the candidates are women.
The significance of this for the entire region, just can't be underestimated. The entire Arab world is looking on, as well as the people of Iran.  Indeed it is of enormous significance for the entire Muslim world.
Obama (who voted against the surge) will now be able to preside over a gradual US troop withdrawal. I guess he can just ignore his previous statements about the situation in Iraq being hopeless, along wth  his proud record of having voted against the war.