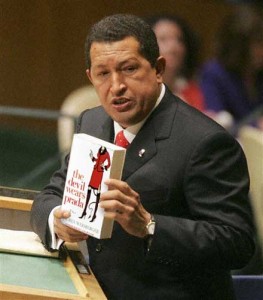 Getting out there and defending social ownership has numerous challenges. One of them is the need to disown various past and present regimes in Third World backwaters that give the idea a bad name. There hadn't been any new ones for a while, and then along came Hugo Chávez in Venezuela with his "Bolivarian Revolution" and "21st Century Socialism".
This "process" has two main features – limiting democracy and freedom both for opponents and adherents, and using oil revenue to buy support. There are also various bits of window dressing but these are of secondary importance.
The "Bolivarian revolution" isn't much into boring old things like normal democratic institutions,  government accountability, the rule of law and respect for human rights. (See the recent Human Rights Watch report for a detailed account.)
The normal separation of powers and checks and balances are absent. The newly appointed members of the Supreme Tribunal of Justice, dressed in full regalia, stood up at the end of their inaugural session in January 2006 and chanted: "Uuh ah, Chávez no se va" (Chávez is not going). The top brass of the military have been chosen directly by Chávez for their loyalty and willingness to enjoy the fruits of corruption and have sworn allegiance to the "revolution".  Paramilitary groups are being trained and armed. Chavista thugs pose a threat to the opposition and the murder of student leaders, lawyers and journalists is becoming a common occurrence.  Cuban intelligence has a whole section devoted to helping Hugo.
With the courts in Chávez's pocket, they have largely abdicated their role as a check on arbitrary state action and a guarantor of fundamental rights.
Privately owned free to air TV are pretty much confined now to stations that have agreed to tow the line and the public ones are heavily pro-Chávez.
By presidential decree all TV and radio stations are required without prior warning to broadcast Chávez or some government event which may go for hours. This happened 1710 times in the first 9 years of his presidency. This is not quite as bad as Castro forcing Cubans to stand in the hot sun for hours and listen to his drivel, but bad enough.
Equally creepy is the lack of free discussion within Chávez's own camp.
The Caracas Chronicles blog makes a telling point:
"Having committed completely to a discourse that automatically dismisses any critical thought as "media terrorism" or "CIA psy ops" geared at planting destabilizing "opinion matrixes", Chávez supporters effectively ban themselves from engaging critically with the mass of contradictions the revolution daily generates."
Decision are made entirely by Chávez, and his flunkies snap to attention. See Section 5 of the PBS video The Hugo Chávez Show: "As seen weekly on Aló Presidente, it's not the opposition, but Chávez's own supporters and cabinet members who most lack freedom of expression.
Chávez has created a new Unified Socialist Party of Venezuela (PSUV) to swallow up the coalition of parties that have supported his regime. This is very much under his control and he has made it clear that people who resist being merged are obviously agents of imperialism and the oligarchy.
That is the nasty Chávez. Now let's look at the nice Chávez who dispenses  largess, made possible up till now by sky rocketing oil prices.
Most well known among the support-buying schemes are those that have turned the poor into grateful clients or dependents through the "Bolivarian Missions". These include programs relating to education, health and food. The first relies to some extent on soldiers, the second on conscripted Cuban doctors provided in partial payment for oil and the third on government food stores selling subsidized food.
Despite these scheme, there are real doubts about the claims of the poor getting a much better deal over what they have always got when oil revenues rose in the past. (See this debate over income shares.)
The poor have to contend with high unemployment, rising prices and shortages of necessities, deteriorating basic infrastructure, squalor and horrific levels of crime. Also many of the missions are riddled with incompetence and corruption. This no doubt ensures the support of those running them. The level of abstentions by former supporters in the 2007 referendum and 2008 local elections indicates some of the resulting disaffection.
Equally important as far as buying support goes is giving army officers jobs in government and industry so that they can feather their own nests through corruption. This includes both siphoning off oil revenue and getting a share of drug money. Then there is the "bolibourgeoisie" or "boligarchs" who are tied to the government through contracts that never go to tender.
Even the middle class opposition has been partly neutralized by various benefits.  While the poor have received doubtful benefits, the former have received real ones through dirt cheap petrol and the chance to buy and sell US dollars for a profit.
There is a lot of window dressing. Much of it does double duty as opportunities for corruption and support-buying. The missions already mentioned sound fightfully radical. Then there are cooperatives which in some cases have received  subsidies and preferential access to  government contracts. Often they are just small service businesses with a fancy name. Nationalized companies are "socialist enterprises". An occasional chunk of land is expropriated and subdivided under a blaze of publicity. Then there was that recent stunt where Chavez took over an almost complete shopping mall and declared that it would be turned into a school or hospital.
It would be good to see a lot more information on how crappy "Bolivarian socialism" is. These articles from an anarchist site are an interesting starter – 1, 2. So is this Chávez-friendly article.
A fair section of the pseudo left love Chávez. His denunciation of "The Empire" goes down well. He also claims to be threatened by US plots which then allows him to accuse his opponents of being traitors.
The reality is that Chávez is the main beneficiary of the abandonment of the US Cold War policy of preventing "left" regimes from coming to power in South America. Furthermore, Venezuela ships about 1.1 million barrels of oil a day to the United States, its No. 1 client. So it is not exactly being subject to an embargo like Cuba or blockaded like Nicaragua in the 1980s.
Chávez must pray at night for a US backed coup attempt. He is the only one who would benefit. The pseudo left must be in a bind on this one. They cannot really imagine their Messiah, Barak Obama, would attempt to overthrow their darling Hugo.
"Left" supporters have an increasing problem with cognitive dissonance in this area. Even those most lavish in their praise for Chávez acknowledge that most of the leading "Bolivarists" are not interested in any real social revolution and so they pin their hopes on the masses somehow becoming more energized and pushing the "revolution" to the next stage.
Michael Albert at ZNet conveys an interesting ambivalence. He tells us that what is happening in Venezuela is "exciting" but then expresses his concern that Chávez's intentions are very unclear and concludes that one cannot rule out plain old statism or even a second Cuba.
It will be interesting to see what happens with the 15 February referendum on eliminating terms limits and then how declining oil revenue affect the economy. Chávez is pulling out all the stops to get a yes vote. There is a danger that things could get nasty both now and further down the track. The Supreme Court may permit all sorts of arrangements to allow Chávez to overstay his welcome. The military is politicized and there are separate militias and other armed gangs. These two Venezuelan blogs are good for following developments – 1, 2. And this is the most well known Chavista "solidarity" site.
What is happening in Venezuela deserves far more detailed treatment. Particularly the "socialist" stuff. But this will have to do from me. Other priorities call.
I'll end with a couple of general observations.
1. A real social revolution would have to take democracy, transparency and accountability to a new far more advanced stage from what we have in North America and western Europe. This is necessary in order to prevent officials from turning public property into de facto private property. (Think present day Cuba or the old Soviet Union.) This means being able to scrutinize and dispute the actions and policies of high officials. Far less important are "grass roots" assemblies at the municipal or workplace level which deal with lesser matters and tend to be dominated by people who like going to meetings. (Guess who.)
2. The backward political, social and economic conditions of the kind still found in Venezuela are not fertile ground for socialism. Anyone who claims otherwise is into something bogus. Such radical change would have to be centred on the most highly advanced countries such as the U.S.A. and Western Europe.
P.S. Every Tuesday, Thursday, and Sunday, twenty-eight newspapers across the country including Venezuela's largest newspaper, Ultimas Noticias, publish a new column by Chávez. Here is a translation of the first column from January 23. Patriotism and "anti-imperialism" are indeed the last refuge of the scoundrel.