Collage of pics from the Adelaide Against Internet Censorship rally: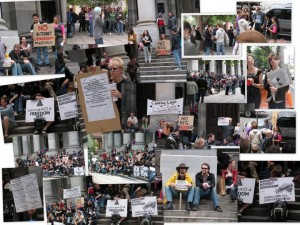 Who's really molesting and "sexualising" our children????  Arthur's comment in the Spiked special on Oz internet censorship thread resonated with me.  For some years, I've been repelled by the increasing spread of the idea that we should keep our children covered up.  I'm  almost beginning to wonder how long it will be before someone introduces the idea of a children's burka!  When my kids were young, they could run naked on the beach.  Nowadays, that's supposedly dangerous.
Six months ago, police raided Bill Henson's photography exhibition and took it down because it displayed photos of naked kids.  Rudd was in full support , maintaining that the photos were "revolting" and took away children's "innocence".
Excuse me!!  Who's sexualising children here?  Who's spreading the idea that naked children are sexually titillating?  Are people like Rudd and Hamilton (who agreed that the exhibition shoud be taken down) titillated by naked children??? What's going on?
I think that in our campaign against internet censorship we should turn the whole thing around and attack the deliberate spreading of the idea that kids are sexually titillating. The people destroying our children's innocence are in fact these  moral zealots who look at kids and see porn…
Arthur made a very good point about the importance of not adapting to, or adopting, enemy terminology such as "cleanfeed", and "filtering".  To do so is to legitimize  these concepts and what underlies them: the deliberate creation of a moral panic which can then be used to justify State censorship.
Do little kids need protection?  Well of course they do.  We don't let them run across busy roads, poke screw drivers into power points, try out all the medicine in the medicine cabinet.  We keep a close eye on them, while at the same time allowing them age-appropriate freedom to explore the world around them. That's just common sense.
Do teenagers need protection?  Yes they do, although I'd use terms such as 'guidance' and 'mentoring'  with regard to this age group.
I've had enough of the idea that the internet (and modernity in general) has created a new and terrifying situation in which normal, adult leadership is inadequate.  This is patronizing both to the young people themselves and to the adult population.  It creates passivity, fearfulness and a sense of impending victimhood.  At the same time, it undermines the development of both personal and group responsibility. (it gives people the idea that they aren't really capable of coping in the modern world by taking responsibility for themselves)
In my view this is the real molestation that we're facing.
David (youngmarxist) wrote in a comment in which he summed up his speech at the Brisbane rally (Spiked Special on Oz Internet Censorship  thread):
"…we need to focus on arguments that are going to win the middle ground over, how we need to confront the Government's dirty attempts to label opponents of censorship as pro-child-porn. I was surprised how well this went over – I got several cheers in this bit of my speech too, when I was half-expecting people to be resentful, to be thinking that just demanding more freedom of speech is all we need to do. I was wrong about that – people at the rally were very receptive to listening to a serious discussion about how we win the people in the middle ground and thus isolate the social conservatives who want Internet censorship. "
I agree that we need to win the people in the middle ground and isolate the social conservatives, however I don't think we'll do this if we pander at all to the campaign of fear and powerlessness launched by the social conservatives.  We'd do far better by going in boots and all, and trying to unite people around a "hands off our kids", "we can look after ourselves" approach.
In any case, there are plenty of people already putting forward the "basic" argument that filtering won't be effective, will slow the internet etc.   I think that there's a huge need to make the issue of censorship/free speech quite central by coming right back at those who advocate reducing our freedom to run our own lives as responsible people and  saying "now that's molestation".