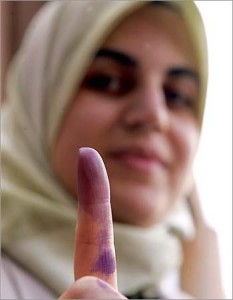 Now that Iraq has not disintegrated into 'endless civil war ', the anti-war camp should be feeling some confusion, at the very least. A year ago, the received view was that the situation in Iraq was hopeless. However the news coming out of Iraq over the past 6 months runs directly counter to this. It really is very clear now that the overthrow of Saddam will result in a democratic Iraq. And that's something to celebrate! The first democracy in the Arab heartland! Wonderful for the Iraqis, and potentially something which can change the dynamic of the entire region. Hardly something to sniff at!
I'm wondering where the anti-war movement will go with this. Surely those who regard themselves as "on the left" will need to do some real thinking? It's now undeniable that a fascist dictaorship has been overthrown and that its replacement has been an increasingly stable elected Iraqi government rather than an American puppet.
This was nothing short of a revolution in Iraq. The old order was completely overturned. This led to counter revolution in the form of deliberate instigation of sectarian violence by those who did not want a democratic Iraq. Fortunately it was fought and the outcomes we are now seeing demonstrate that it was not an unwinnable conflict. The surge worked, and it worked because the US really was on the side of democracy rather than engaged in a war against the people. If it had been … well the situation would have been a quagmire for them ! They'd have been mad to try it. Being pro-democracy (for a change) makes all the difference.
So now we can now see all sorts of good things happening as the situation stabilises. By and large the Sunnis have rejected both AL Qaeda and the insurgency, realising that their interests will be best served by making use of the democratic process. This was a tough lesson, learnt at the barrel of a gun. But it has been a real lesson nonetheless. At the same time the Shia militias have been reined in, both as a result of the Maliki government acting against them, and because the Shia population itself increasingly rejects their criminal aspect. The strengthening of the ISF has played a big role here. The growing strength of the Iraqi State apparatus means that neighbourhoods now feel increasingly able to refuse "protection" from these armed gangs.
Increasingly Iraqi politicians are acting like…well politicians…. wheeling and dealing, lobbying, spinning stories, playing groups off against each other, trying to garner support. This is a huge step forward, believe it or not. Iraq is moving steadily in the direction of liberal democracy and the rule of law (absurdities included). There are still many struggles to be fought, especially for women's rights and a more secular society, but it is now possible for these battles to take place. Gone are the days when Iraqis were literally too terrified to open their mouths.
Given this outcome, does it still make sense to have opposed the war?
We (LastSuperpower/Strange Times people) argued from the beginning that this was a war that the Left should support. Knee-jerk opposition to US imperialism should never have been able to eclipse the desire to see a fascist dictator overthrown. And yet it did, which is very depressing.
The only remaining "left" anti-war argument is that the Iraqis could have overthrown Saddam themslves and moved toward democracy in a much less painful way. I'd like to see a case for how that may have happened! It sounds like abstract posturing, utterly divorced from the reality of the situation. All I can imagine, when I think about what may have happened if Iraq had been left alone, is a much longer period of fascist rule (with or without sanctions? with or without the US-British no-fly zone previously protecting the Kurds?) . Saddam's regime would have imploded at some stage, perhaps upon his death. However even a successful uprising against Sunni-Baathist rule would surely have involved an horrendous Iraqi death toll, followed by far (far) worse sectarian violence than we have witnessed over the past several years. And there is little doubt that there would have been military intervention from the surrounding autocratic regimes, quite likely involving the outbreak of full scale war across the region.
Now that is a scenario which doesn't bear thinking about.
So I'd like to know what the "left" opposition is thinking now. Are they ready to celebrate the coming into existence of a fledgling Arab democracy? Are they happy to see the defeat of the anti-democratic forces in Iraq, the growing acceptance by the Sunnis that they weren't born to rule Iraq and that Al Qaeda is a false friend?
I think that most people who see themselves a leftists will eventually be happy about all this. Those who opposed the war did so because they (very reasonably) hate war and quite naturally suspected US motives. Given that the US started the war with lies about WMDs and attempts to maintain that Saddam had close ties to Al Queda and was a direct threat to the USA, it was fairly natural to be suspicious. The switch in US policy which came into effect after 9/11 was difficult to comprehend because those behind it were enaged in complex manoeverings within their own ruling circles, and made no attempt to win mass support for their full agenda before the outbreak of the war.
It's still disappointing however that so many people were prepared to put opposition to the USA ahead of hatred for outright fascism, while at that the same time so easily forgetting that there are causes which are worth fighting (and dying) for. This has resulted in a resurfacing of appeasement policies from both right and "left".
In September, 2006 I wrote an article for The Australian entitled "Drain the Swamps where Terror Breeds" . I think the ideas that I expressed at the time are being confirmed by current events.
There is still the question of a Palestinian State, but I feel fairly confident in predicting that we will see one before the end of Bush's term. If Marwan Barghouti is among the prisoners released by Israel on August 25, that will be a very good sign!
Meanwhile, the majority of "mainstream Left" sites have had little, if anything to say on Iraq recently. For example Lavartus Prodeo has published nothing on that topic for over a month. Currently they seem to have switched to talking mainly about the weather, interspersed with attacks on Noel Pearson (etc).
I'm not really surprised at the silence, it takes time to process events which contradict expectation. Some thinking time is required. If anything, the silence is a good thing.
May Day 2007, in Iraq: