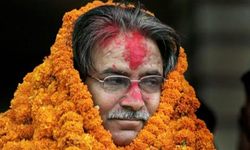 Pushpa Kamal Daha (better known as 'Prachanda", meaning "the fierce one") has just become Nepal's new Prime Minister. He received 464 out of 577 votes in Nepal's Constituent Assembly.
In the recent elections, the Communist Party of Nepal (Maoist) received more votes than any other party (although not an absolute majority). So they are "legally" in power. However this legal victory can be traced to the successful Maoist led people's war in Nepal which forced the holding of elections as part of the peace process. As soon as real elections were on the agenda, the Maoists called off the war and oriented themselves toward winning via the ballot box.
The policy of the Nepalese Maoists is clear: what Nepal needs is capitalistic development and democracy!
Their victory is the result of the bankruptcy of the traditional ruling elite in Nepal which has never shown any enthusiasm or ability to lead the nation out of feudalism, preferring to maintain frozen social relations than risk losing out to anything more dynamic. It's been a similar pattern to what we've seen in many parts of Africa.
What happens in Nepal will be highly significant and could become a model for other places in which the entrenched ruling circles are so backward and corrupt that the transition to democracy and capitalism is being prevented.
David Mc. wrote a post about this a few weeks ago: New meme from Nepalese Maoists.
And here's what Baburam Bhattarai, the Maoists' second-in-command, has reportedly just said in response to Prachanda becoming Prime Minister

Nepal is seeing a golden morning today. We have already finished destroying the roots of feudalism in Nepal, the 240-year old monarchy institution. Nepal is entering a new epoch and we have already started our journey but sadly we were unable to find a driver for the journey for last four months.

The CA elections was for new leadership and new change. That was what the people wanted. It took a while, but finally it happened.

We have to go join hands ahead to take Nepal to a whole new level, for the development and rapid economic revolutions. Under the leadership of Prachanda, the main agenda of the new administration would be nationalism, republic, economic and social transformation, and for which we will publish a common minimum program very soon.

We also want to reassure our commitment that we are going to implement past commitments to return the personal and piblic property and land seized during the conflict and to destroy the paramilitary structure of the Young Communist League. From now on, none of our Maoist party member who are in the CA and hold government position will hold any post of People's Liberation Army (PLA). Please do not suspect us.

These days, newspapers have started addressing comrade Prachanda as Pushpa Kamal Dahal. We don't see good intention in using his name as Pushpa Kamal Dahal instead of Prachanda that people would love to hear addressed as, that he is popularly known as. Prcahanda does not give any signal of ethnicity, area or gender and Pushpa Kamal Dahal does not and he also prefers not to be addressed as.

We feel that Nepal has found its hero. For any epoch-changing society, we need a hero. After Europe's capitalist revolution, Napoleon was born. To institutionalize the socialism in Russia, Lenin was born. In Nepal, to institutionalize the federal democratic republic after the 10 years of People's War and mass popular movement, Prachanda is born. He is the new leader of new era. We will see his leadership from the support of all the parties.
Interesting stuff , which should challenge all sorts pseudo-left dogma.
Further link: In Nepal: "We are trying our best to understand democracy"
Btw: Although the Nepalese Maoists are still on the US terrorist list, US officials have met with Prachanda and have been among the first to greet his election as PM. I don't think they have any choice but to support (or at least not oppose) any force which has the potential to dismantle obstacles in the way of real development in the undeveloped world. People on the Left need to update their minds and recognise that the last superpower faces some very new difficulties in the 21st century – dificulties which have forced it to change its policies. This is very good, in fact a victory, for the people of the world.