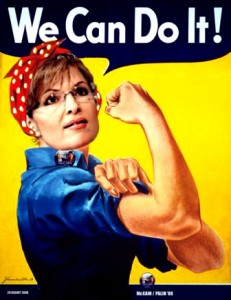 Real or not – this is the sort of image projected by Palin. I'm glad it appeals.

Sarah Palin produced a stunning performance when she spoke at the Republican Convention yesterday.  She scared the pants off the pseudo-lefty blogospehere.  When put to the test, McCain's "idiotic" and "uniformed" choice of running mate revealed herself to be more than a "confused fundie airhead". Turns out he knew what he was doing. It's panic all around. Maybe the End really is nigh!  Could The Messiah be running out of luck?
Writes one depressed punter at Lovartus Prodeo
Check the sustained cheering and mayhem when she goes "the media". It's decent small town repubs agin dirty left liberal media blogging fops. I never seen such a big snook cocked.

I am seriously depressed. And as Nabs says – this is better than any WW writers wld ever dare serve up. (But then I'm not Nabs – so remain depressed.)

If she manages to transcends the base – and allows the mainstream white voter to find reason to honour their instincts – then the Dems are done again.

If Obama needed a challenge – he's got it now. I'd love to think that coming back to the issues is the answer but I reckon this is gonna be all about rhetoric. Voters are uncomplicated folk by and large and economics may as well be string theory.
Oh dear!! What a pity those "uncomplicated folk" have the vote!
What fascinates me as I read this  stuff from the  "progressive" camp is the utterly undisguised contempt for ordinary  people.    They just don't get it.   McCain understood enough to play the game by choosing a fesity, gun-toting mother-of-five who will win support precisely  because she can project an image of real toughness and spirit at the same time as appearing "ordinary".   And how do "progressives"   respond?   They launch a mocking  attack on her support base (ordinary working people).  They berate them, laugh at their "folksiness" and "simple-mindedness".
Yesterday's Crikey email newsletter thought it could score a point by  saying:  "The fact is, that the pregnancy of Palin junior points to the deeper hypocrisy of the proselytizing, moralizing, upright, arrogantly self assertive religious right. Weird indeed. " Huh??  The kid's pregnant and her mum still gets the Republican nomination for Vice President! It's only the pesudo-left who is moralizing.  I've rarely read anything more preachy and arrogantly upright  than the commentary on Palin in the mainstream pseudo-left blogosphere over the past few days.
What on earth are they thinking???  The world has moved on. It's extraordinary really.  Here we have American conservatives (!)  endorsing as their Vice Presidential candidate, a woman who projects an image of toughness, spirit and a bit of cheek.  They cheer when she  maintains that "every woman can walk through every door of opportunity",  they take it as a given that she'll be out in the public arena while her husband looks after the kids.  They don't care that her teenage daughter didn't wait till she was married. Things have changed when this is the way for conservatives to score a goal!
I'm an atheist, I support abortion rights, sex education in schools (and  all the rest of it). Nothing about  Palin's views panics or depresses me though.  Some of her views are very  backward and I would argue against them.  But the mocking contempt  from people who call themselves "leftwing" and "progressive" is unforgivable.  It reflects an attitude toward the people which leaves me cold.  I don't want to be ruled by prigs like that either. No thanks!
Fundamental to being on the Left is a positive attitude toward the people.  This is not the same as thinking that the people are always right (we know they aren't.)  Nevertheless we have confidence in their capacity  to grow and change. Historically this has always been the case.  (Compare today's mainstream beliefs with those even as recent as 50 years ago).  The  popularity of the image presented by Sarah Palin is a startling testament to this.
The sneering and jeering that we are seeing at the moment seems to be at odds with that other plank in the so-called progressive platform which is all about "diversity" and respecting different cultures.  Many of these people are prepared to downplay  the most appalling backwardness and abuses of human rights in various parts of the world.  It's "their culture", "they aren't like us", it's "oppressive" to  expect them to embrace our (Western) values".  They insist that it's out of bounds to call backward,  primitive  cultures what they are – backward and primitive.  It's not not of course.  What would be wrong is jeering and mocking at the same time as criticizing various cultural practices and traditions.   And this  is exactly what has happened in the case of Palin and her constituency.  Historically it was always the Right which engaged in such behaviour.  Now it's the pseudo-left. They  are clearly to the right, even of the  of the Republicans, these days.
But I haven't answered the question of why these people can both claim to embrace something called "diversity" while at the same time being quite prepared to sneer at ordinary people when it suits their agenda.
I don't think this apparent double standard reveals incoherence – the underlying world view is quite coherent.  Both attitudes – feigned broad mindedness/tolerance and undisguised intolerance, reflect the same thing. It's all part  of a priggish sense of superiority.  Quite simply, they patronise the "lower classes" and the oppressed.  Backward third-world cultures are romanticised and regarded as in need of protection.  Similarly, minority groups within Western society are seen as victims who can't help themselves. The mainstream working people, on the other hand, are to be chastised and detested for refusing to embrace this ideology.  It's frustrating when the masses won't follow you even after  you've told them (again and again) what's right!  There they are, sticking to their folksy views, clinging to religion and guns, doubting the theory of evolution. Damn them!!  Take away the vote until they come to their senses or we'll find ourselves back in the dark ages.
My fear–that she (Palin)  will appeal, not just to Christian conservatives but to many "ordinary Americans" particularly in the Midwest and South-west, who like the idea of a citizen-politician.
Yikes!  How dare they go for a citizen politician!! Those "ordinary Americans" are a real problem…
Everything feels a little scary and threatening to these people. Sometimes I think that they really may be deluded::
Backlash? Feminists, or progressive women whatever, have been whipped from pillar to post for the last thirty years. When exactly do we get to fight back?  (comment at Lovartus Prodeo)
Strange stuff. As far as I can see, women are better off than they ever have been. What world do these people live in?
After all, if the neocons get back into power, the Supreme Court will be fixed for the next decade and american women's rights will be stripped to the bone, and the rest of us may well follow them back into the dark ages. This is serious………And I definitely don't want a fundie airhead a heartbeat away from the trigger.
They actually think they're in danger when American conservatives have shifted to the point of swooning over a female vice presidential candidate who mounts a spirited attack on the Washington Establishment and the "good ole boys".  Whether Palin is genuine, is entirely beside the point.  What counts is that she projects a rebellious, gutsy, gritty  image and mainstream America loves it. That is real.
The social shift  is enormous. The clock has jumped forward and can't be turned back.
I haven't even covered the other thread of debate in the "lefty" blogosphere. That's the one in which Palin is attacked for putting political ambition ahead of her "large and troubled family".  There's been a lot of this on the Huffington Post, and a bit on Lovartus Prodeo. This is interesting in itself as I can see a wedge opening up.  The more extreme "feminist"(??) attacks on Palin for having "neglected" her children (my god!! one of them is pregnant and she went back to work the day after her Down's Syndrome baby was born in April) have roused the ire of other women and forced some of them to show just a little grudging respect for Palin.
Confusion abounds – which is all to the good.  Strange times and all that.