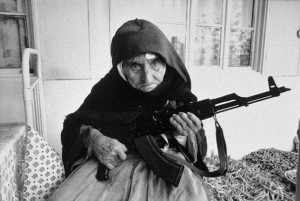 Please note that the Ed. is laid up with a broken foot, and with only intermittent internet/computer connection.
The good news for the end of 2013, is that jailed Pussy Riot activists were released from Russian prisons, and 28 Palestinian prisoners were released from Israeli prisons.
I noted that the ABC reporter of this news was standing in front of a portrait of Marwan Barghouti with the message FREE MARWAN BARGHOUTI as street wall art – I'm hoping that's more than serendipity.
Also wishing that Strange Times readers, one and all, have a safe and productive 2014, and that the hearts and brains of "Israeli settlers' " grow a few sizes in the coming year.