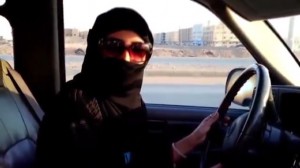 "Sheikh Saleh bin Saad al-Luhaydan said campaigners should put "the mind before the heart and emotion, and look at this issue with a realistic eye."" These comments are by a Saudi psychologist asserting that driving affects women's ovaries and can lead to their children having health problems. This sentiment has outraged Saudi women in the conservative Muslim country, 11,000 of which have signed a petition protesting a de facto ban on women driving.
Saudi women are buckling up for social change. Meanwhile, writers such as Abdullah Mohammad Al Dawood urges his 97,000 twitter followers to grope women who dare occupy public space. Or clerics who believe that women driving is evil no less. In places like Saudi Arabia victims of crime are often punished rather than the perpetrator. Saudi women activists were recently jailed for assisting a starving woman locked in her home. Think recent weirdo American hostage crimes and know that this kind of thing is not an aberration in near/Sharia societies and also that providing assistance to the vulnerable regularly brings medical professionals/social workers etc., into the harsh spot light of the black shirts that rule the streets. And what about this? "Saudi Arabia hopes to put imprisoned Al-Qaeda militants on the right path and make them drop their thoughts of jihad by offering them spa treatments, exercise and counseling at a new luxurious rehabilitation facility in the capital, Riyadh."
The country's first female law firm in Saudi Arabia will certainly have its hands full.
The country's first female law firm has opened its doors to protect women's rights in Saudi Arabia, two months after its founder along with three other female lawyers were granted licenses to practice law in the traditionally patriarchal kingdom.
Now Saudi women can seek help, advice and legal aid from Bayan Mahmoud Al Zahran, the first Saudi woman lawyer who launched the female law firm in Jeddah.
Zahran told Arab News that her law firm is ready to fight for the rights of Saudi women and relate women's cases to the court, a task which her male counterparts at times cannot understand or handle.
"I believe women lawyers can contribute a lot to the legal system. This law firm will make a difference in the history of court cases and female disputes in the Kingdom. I am very hopeful and thank everyone who supported me in taking this historical step," Zahran said.
The lawyer also stressed that she is eager to work on labor cases and business disputes involving women but will work with both genders.
"Our activity is not restricted to cases involving only women. Saudi Arabia's legal system treats men and women equally and a lawyer has the right to represent men and women," Zahran told Al Arabiya News Channel on Thursday.
The launch was attended by a number of Saudi officials and members from the NGO community, including Mazen Batterjee, vice president of Jeddah Chamber of Commerce.
Batterjee stressed the importance of Shariah law Saudi courts, adding that female attorneys should follow the restrictions of the court for hijab while presenting themselves before a judge.
Zahran's father, Sheikh Mahmoud Al-Zahran, praised his daughter's efforts.
"We are very proud of our daughter who stands firm for protection of women's rights. This will help all women who couldn't go and speak to male lawyers about their problems," he said.
Zahran hopes that her firm's example will lead to more female lawyers.
"This is a very positive step toward the Saudi court and justices as right now, we are four female lawyers who got the license, but I am hopeful that in future, the number will increase," she added.
Bayan Zahran, Jihan Qurban, Sarra Al Omari and Ameera Quqani became the first female legal representatives in Saudi Arabia in October, when the country issues licenses, allowing them to change their status from legal consultants to attorneys, thus lifting the ban imposed on female law graduates to practice.
The initial plan of the justice ministry was to allocate licenses to family status cases, but the final decision did not impose any limits on fields of law practice.
Conditions to obtain the license are the same for men and women and include a university degree in law and three years of training.
Women in the ultra-conservative Kingdom of Saudi Arabia usually maintain a traditional place inside the household. Many details in the lives of Saudi women are closely regulated by Sharia law derived from the Koran.
Every adult woman is required to have a close male relative as her 'guardian', who is authorized to make a number of decisions on a woman's behalf, including the right to travel, to start a business, and study at university. Saudi women are prohibited from driving, and are required to cover themselves in public, among other restrictions.
Last October, Saudi women embarked on unprecedented protest measure, by defying kingdom's de facto ban on women driving by getting behind the steering wheel.
As part of the October 26th Women's Driving Campaign, around 60 women got behind their vehicles, some brave enough have even posted their experience on YouTube.
The declaration on the website oct26driving.com has been signed by over 11,000 women.
"Physiological science and functional medicine [found that driving] automatically affects ovaries and rolls up the pelvis," Sheikh Saleh bin Saad al Luhaydan, judicial and psychological consultant to the Gulf Psychological Association, said in reaction to the issue.
He added that the women who drive give birth to children "with clinical disorders of varying degrees."
Many Saudis have expressed their anger in Twitter, mocking the Sheikh's "great scientific discoveries."