I've been trying to figure out how things will go in the Middle East under Obama, and have half-written a post about his Cairo speech, which I hope to finish very soon…… meanwhile, I'll post this…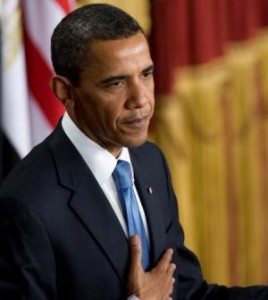 My half-baked view (which I'll expand upon in my future post)  is that he knows that he has no choice but to continue what was begun under Bush.  Nothing else would make any sense.   I think the main clue to this was in his remarks about the necessity for a Palestinian State.  He was more forceful than I'd expected about this.
However,  the entire tone of his speech suggests that the Obama administration  is utterly lily liver'd when it comes to fighting tyranny and propogating the democratic revolution.    The bulk of what he said  was just  liberal waffle about  'understanding difference',  'looking into our hearts', 'finding what we have in common'  etc etc.   Relationship counselling  stuff…
"In order to move forward, we must say openly the things we hold in our hearts, and that too often are said only behind closed doors. There must be a sustained effort to listen to each other; to learn from each other; to respect one another; and to seek common ground."




"It is easier to blame others than to look inward; to see what is different about someone than to find the things we share. But we should choose the right path, not just the easy path. "
Notably missing was any reference to the fact that the central problem in the ME   is lack of democracy.  Sectarian division among the people and "violent extremism" (Obama won't use the 'T' word) are the inevitable consequence.   It won't go away while people continue to live under repressive regimes which thrive on it.

Not surprisingly,  his remarks on Iraq were abysmal .  He believes  (of course!) "that the Iraqi people are ultimately better off without the tyranny of Saddam Hussein.."  but after saying that he comes out with the remarkably empty  comment:
"I also believe that events in Iraq have reminded America of the need to use diplomacy and build international consensus to resolve our problems whenever possible.  Indeed, we can recall the words of Thomas Jefferson, who said: "I hope that our wisdom will grow with our power, and teach us that the less we use our power the greater it will be."
It was the Thomas Jefferson quote which got me.  When Bush quoted Jefferson (August 2006),  he  selected differently:
"We are not to expect to be translated from despotism to liberty in a feather bed." (Thomas Jefferson to Lafayette, 1790. ME 8:13)
Out of interest  I began googling for some more Jefferson quotes and decided they were worth posting:
"Rebellion to tyrants is obedience to God." ( (this was  Jefferson's  his motto, printed on his seal … not his own words))

"When patience has begotten false estimates of its motives, when wrongs are pressed because it is believed they will be borne, resistance becomes morality." –Thomas Jefferson to M. deStael, 1807. ME 11:282

"The oppressed should rebel, and they will continue to rebel and raise disturbance until their civil rights are fully restored to them and all partial distinctions, exclusions and incapacitations are removed." –Thomas Jefferson: Notes on Religion, 1776. Papers 1:548

"As revolutionary instruments (when nothing but revolution will cure the evils of the State) [secret societies] are necessary and indispensable, and the right to use them is inalienable by the people." –Thomas Jefferson to William Duane, 1803. FE 8:256

"It is unfortunate that the efforts of mankind to recover the freedom of which they have been so long deprived, will be accompanied with violence, with errors, and even with crimes. But while we weep over the means, we must pray for the end." –Thomas Jefferson to Francois D'Ivernois, 1795. ME 9:300

"In the struggle which was necessary [in France], many guilty persons fell without the forms of trial, and with them some innocent. These I deplore as much as anybody, and shall deplore some of them to the day of my death. But I deplore them as I should have done had they fallen in battle." –Thomas Jefferson to William Short, 1793. ME 9:9

"A first attempt to recover the right of self-government may fail, so may a second, a third, etc. But as a younger and more instructed race comes on, the sentiment becomes more and more intuitive, and a fourth, a fifth, or some subsequent one of the ever renewed attempts will ultimately succeed… To attain all this, however, rivers of blood must yet flow, and years of desolation pass over; yet the object is worth rivers of blood and years of desolation. For what inheritance so valuable can man leave to his posterity?" –Thomas Jefferson to John Adams, 1823. ME 15:465

"The way to Heaven… has always been said to be strewed with thorns." –Thomas Jefferson to the Duchesse d'Auville, 1790. ME 8:17

"The generation which commences a revolution rarely complete it. Habituated from their infancy to passive submission of body and mind to their kings and priests, they are not qualified when called on to think and provide for themselves; and their inexperience, their ignorance and bigotry make them instruments often in the hands of the Bonapartes and Iturbides to defeat their own rights and purposes." –Thomas Jefferson to John Adams, 1823. ME 15:464

"Alliances, holy or hellish, may be formed and retard the epoch of deliverance, may swell the rivers of blood which are yet to flow, but their own will close the scene and leave to mankind the right of self-government." –Thomas Jefferson to Lafayette, 1823. ME 15:490

"[In] the progress of society from its rudest state to that it has now attained,… barbarism has… been receding before the steady step of amelioration, and will in time, I trust, disappear from the earth." –Thomas Jefferson to William Ludlow, 1824. ME 16:75

"Postpone to the great object of Liberty every smaller motive and passion." –Thomas Jefferson to Samuel Huntington, 1780. FE 2:298, Papers 3:289
Of course, Jefferson said many other things  (and yes, he was a slave owner).  My point in selecting these quotes  is not to play 'the quote game' but to contrast him with today's bourgeois leaders, who know that they have to complete the democratic revolution,  but can hardly do it.  I suppose moribund is the word.  Heck, they can't even write their own speeches.
It's quite remarkable really  that  the Bush regime did manage to get the ball rolling in Iraq.    The development of a genuine democracy in an Arab country with a Shia majority will continue to have an enormous positive impact, not only on the Arab world but in Iran.
Obama clearly knows (as did Bush before him) that the crucial next step must be a Palestinian State.   Unlike people like Jefferson though, he won't be making history, but just sluggishly obeying it.