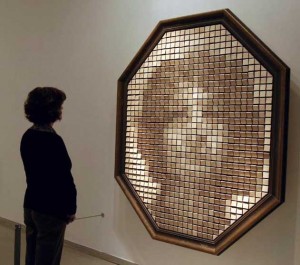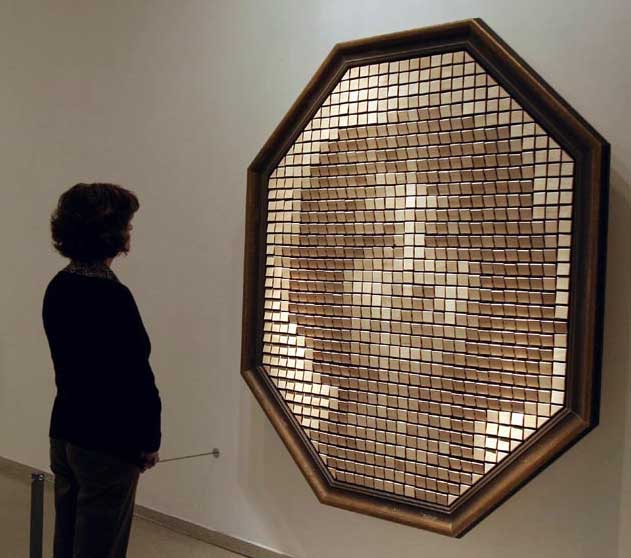 A recent debate at Larvatus Prodeo brought to mind the exposure of Lemingist sects in The Life of Brian: "What did the Romans ever do for us?" The enlarging mirror at LP took the form of a well mannered pseudo-leftist, articulately holding to a consistently reactionary position with regard to Zimbabwe. Basically this fellow (John Tracey) supports Mugabe. The LP bloggers took him to task. But did they actually see their own features in that mirror?
'No Mark, the developed nations standard of living is obscene and the root cause of African poverty.' Oh dear.
When John Tracey didn't stun people into silence he often forced them into distorting his position because much of what he bases his views on is what they themselves have argued for on LP. ( ie support for 'small is beautiful' right-wing green policies such as Perma-culture, rather than modern industrialized farming; defence of reactionary sovereignty rather than a developing internationalism; promoting 'cultural exceptional-ism' rather than being unequivocally in favour of universal human rights)
But on the issue of Zimbabwe, the regular bloggers at LP cannot stoop so low as to abandon the people of Zimbabwe and their struggle for democracy (nothing more than bourgeois democracy). In the crystallized situation that we see in Zimbabwe, LP regulars have chosen the correct side. They want the tyranny there to be brought to an end.Theoretically, John Tracey must also oppose tyranny, however his blinkered incapacity to see any progressive features in the bourgeois revolution that is required at this time and place puts him objectively on the side of a tyrant.
In posting in so detailed and such an intellectually consistent manner, John Tracey has done well. He has caused everyone to pause and shake their heads. How can such a view be described as left? Yet innocent novices who come across such reactionary twaddle mistake it for just that, and then quickly reject the 'left'. But in doing so they are simply rejecting the quintessential pseudo-left and quite frankly, rejecting individuals suffering from a disorder. I don't make that last comment flippantly either.
The thread that I am referring to became a monster thread http://larvatusprodeo.net/2008/06/18/zimbabwe/ and as the comments unfolded it became impossible to miss the total disconnect between John Tracey and reality characterised by his belief in himself and his abilities, as a substitute for any attempt to engage seriously with people who were making an argument against his stance.
Disbelief was palpable in the way the LP regulars responded to JT. Yet his conservative defense of Zimbabwean tyranny against international efforts of bourgeois forces to end it, with the required launching of a bourgeois democratic revolution is something that should be entirely familiar to them! They are caught on the horns of a dilemma. They appear to want intervention or at least are prepared to seriously discuss the issue in the case of this unfolding African nightmare (with Rwanda obviously in people's minds), yet they are unanimous in their opposition to supporting or defending the democratic revolution in Iraq.
On the issue of Afghanistan they are pretty well reduced to silence since their beloved Rudd government still keeps the troops wandering around the wilds without the slightest evidence of any strategy with even a vague hope of ending that war in a victory.
John Tracey's 'open, honest, and above board' comments (before they degenerated into more obvious delusional rants), while tedious, ought to have reminded everyone that one can construct all manner of clever arguments for not standing up for the oppressed against the oppressor but in doing so one leaves behind any left politics. However the issue of oppressor and oppressed has been consistently fudged at LP with most of the liberals, greens, and pseudo-lefts regularly hiding behind either a phony pacifism, or the pretence that no-one in Iraq is worthy of any support.
Amazingly, in the Zimbabwe thread, John Tracey called the Iraqi government and the politicians elected in the free and fair elections there 'puppets' and no one told him that this was rubbish! Mark, Katz, Kim etc all kept silent, as well they might.
I think they must now be starting to realize that such a view really is rubbish the Iraqi politicians are anything but puppets. However LP'ers still don't dare call John Tracey's bluff on this because of their failure to aid the Iraqi people in the past so they have just gone silent. The bourgeois revolution is now up and running in the Middle East. They failed to support the start of this revolution and they haven't yet faced the task of revising their positions. But they are supporting it in Zimbabwe, so that's a start….
After the difficult years of setbacks and slow progress in Iraq and Palestine (I ought to have been placing far greater emphasis on the protracted nature of this revolutionary war from the very beginning), a greater silence has begun to descend as the outline of these victories now emerge on the political horizon.
In my experience people who get a political issue wrong don't often put their hand up and say "I was wrong"; nevertheless a change takes place and it starts once they are not able to think about the issue in the old way. As the confusion of emotions takes hold they go quiet and drift away from commenting on the issue. That is the phase that many in the shrinking anti-war movement are entering now, as progress in both Iraq and Palestine becomes harder to ignore.
John Tracey, apart from being a troubled mind is naturally, not any sort of genuine leftist at all. He is a classic green opponent of revolution; he hates the bourgeois forces and is delighted to put forward policies that would keep tyrants in place. But even a troubled mind can play a useful role when the result is shock therapy for people confronting a stark contrast in their attitudes to the protection of Zimbabweans and Iraqis.
Close to seven years after 9/11 and clearly neck deep into the struggle to bring bourgeois democracy to the Middle East along comes Zimbabwe and people are now prepared to screw their brain back in and think about the problems involved in overthrowing an armed tyrant. This is very good progress.
Compare to the foolishness of last year.
http://larvatusprodeo.net/2007/01/04/scourging-the-surge/#comment-285708
http://larvatusprodeo.net/2007/01/04/scourging-the-surge/#comment-285731
I think a united-front in opposition to the anti-democratic forces in Zimbabwe is called for. Armed forces must be ready to act, and governments around the world should be assisting the neighboring states of southern Africa prepare for a speedy intervention as well as joining them militarily. I acknowledge this would be more complicated than just a speedy act of liberation and would require years of restructuring and political reforms driven by an MDC ("Movement for Democratic Change" ) of some sort, so I am glad the Zimbabweans have one to start from.
What I know for certain is that I do not want to say nothing and turn my back as the bourgeois forces did when Rwanda broke wide open.  If people think it won't get as bad as Rwanda they are probably right. But they ought to conceive of being wrong and prepare accordingly.
At any rate the much smaller numbers being beaten and hacked to death now for daring to vote the wrong way deserve soldiers to protect them NOW
John Tracey was quite right when he wrote;
'It is unrealistic to expect this national revolutionary infrastructure to dissolve itself because its political opposition wins an election.'
People posting and commenting at LP are looking to the future in Zimbabwe and are realistically assuming that the bloodshed will get worse as the regime clings to power via 'the barrel of a gun'. Mark who, as I recall, supports the armed struggle being waged in the wilds of Afghanistan (and the Australian intervention in East Timor) prides himself on being realistic, as do Katz and Kim. So we can assume that they all expect such a bloody tyranny to use whatever levels of violence it deems necessary against any sections of the Zimbabwean population that challenges "…this national (what I would term counter) revolutionary infrastructure…"' for power.
Now that they have declared that they are not handing over political power via any method of voting, we can therefore 'cast away illusions and prepare for struggle'. ZANU PF will not be defeated without armed struggle. Mugabe may well die soon but that won't end the tyranny. Barbarism will continue and because free and fair elections can no longer be held, power will if not prevented, pass to the next tyrant.
Many in the west, especially those with an 'anti-war' and 'anti-imperialist' background will just shrug their shoulders and wish it wasn't so. Some, perhaps most, will advocate that the unarmed masses in Zimbabwe liberate themselves and proclaim loudly that that is the only way it can be done; that there are no short cuts, and that the enormous difficulties and resultant casualties will just have to be lived with.
But others will advocate for armed intervention by the regional powers, notably South Africa.
I'm in favor of urgent military intervention, but I regret that the military intervention that I advocate and believe will ultimately eventuate, will not be anywhere near urgent enough!
I think a call by progressives urging the Australian government to send a military commission to southern African states to assist with contingency planning and pre-positioning of forces and material that may (but in my view will) become necessary is a no-brainer.
Australia has a reactionary government of backward looking millionaires and yuppies, so we can expect them to be late with support, and offer little. Offering instead miserable 'sound bytes' rather than preparing public opinion for the required effort. But progressive activists ought to at least 'hold the blow torch to their bellies'. The slaughter has started already so nobody will be able to say later when it gets worse that they didn't know even the very basics of what to do. We do know that contingency forces must be prepared now. We have seen sufficient atrocities unfold on the African continent to realize that international forces must prepare to step in and stop it.
A bloody crisis has arisen and Australia has a very large role to play (because we are capable of rendering assistance and it would be a crime not to). Bourgeois forces must help develop bourgeois norms throughout the world. Industrialized people who will not defend such a pathetic level of democracy in a timely manner (and do so in a global context rather than in a retreat from international responsibilities) could not possibly hope to go beyond this to any bright future (socialist or otherwise, and with or without cooler or warmer changes in the weather).
Defending the vote is basic stuff. This tyrant ought to be made to pay a consequence in order to intimidate tyrants the world over! Ending tyranny across the globe ought to be the goal of anyone claiming the title of progressive, but the way we eat such a large meal is as usual 'mouthful by mouthful'. This mouthful is now before us and we either eat it or abandon the concept of progressive politics and slink off with John Tracey denouncing the horrors of the era of modernity we live in and the vast opportunities that industrialization provides (because 'the planet' won't allow it no less!).
No leftist could remain silent in the face of this blatant attack on the basic democratic rights of people. It can't be that the U.S., British, and Australian administrations could speak louder or clearer in support of the people in Africa than those who define their politics fundamentally as standing with the oppressed against the oppressor.
While people are still coming to terms with why a 'Movement for Democratic Change' is required, it's well to remember that although it's valid to criticize actual policies of the MDC as it exists, that criticism must be in the context of support for the majority parties forming the government. People can then remind us that in addition to free and fair elections a civil society is also required if a true democracy is to be defended, but they must remind us of this in the context of their support for voting and respect for its outcome!
John Tracey has provided a shock therapy for progressive political forces to address the question 'who are our friends and who are our enemies'. His criticisms require detailed refutation and the anti-democratic foundations driving such thinking must be exposed along with vacuous anti- imperialism.
However, I do not believe he ought to be condemned to the category of enemy just yet. There are still large sections of the Zimbabwean population that are voting for ZANU and they have to be divided and divided again. The job is to unite the many to defeat the few. We should isolate the few beneficiaries of this tyranny. John Tracey is no such beneficiary although his views are toxic.
'Democracy (he writes), is that process by which a citizen puts a mark on a piece of paper every several years is a British cultural structure and mythology imposed onto Africa. It is the democratic constitution itself that until recently entrenched white control of land in Zimbabwe.'…This ritual of choosing politicians in no way provides the structure for the will of the people to be expressed and executed, it is simply the justification, the authorisation of an elite to govern on its own terms and priorities.'
These views (utterly rejected in the case of Zimbabwe by LP posters) actually reflect the position many have taken toward the democratic government in Iraq. John Tracy believes the MDC are puppets just as he thinks the politicians in Afghanistan and Iraq (and even East Timor) are, and he has made a consistent criticism of the ways these forces have co-operated with imperialists.
As the democratically elected government of Iraq drive the men in black off the streets of Basra etc, people who formally expressed views like; 'Don't you see the genius of Moqtada's political manoeuvres?' are still coming to terms with how they got it so terribly wrong. Within another eighteen months we will see the next scheduled elections in Iraq and most of the world will welcome this for what it is – actual progress and part of the real process in turning another part of the globe into a place even remotely fit for human habitation.
It's correct that democracy means more than just free and fair elections but it's also true that it does not mean less than that.