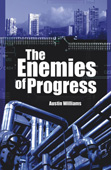 Austin Williams: The Enemies of Progress: The Dangers of Sustainability" (Societas, 2008)
I am heartily sick to death of 'green architecture'. And I don't mean that I'm a little fed up with greenwash or that I am slightly peeved that sustainability doesn't get the attention it deserves. I mean that sustainability – in itself – has shown itself to be a euphemism for backwardness and I've had enough of the reactionary lectures by unelected green spokespersons. 'Sustainable architecture' is insidious, it's patronising and it's a recipe for uncertainty (what materials to use? where to build? Whether to build?). It's not just the holier-than-thou attitude of the sustainability industry or the fact that over-paid eco-consultants have as much of 'an agenda' as anyone else (but pretend not to); the dangers of sustainability actually go much deeper. I hate sustainability because its relentless focus on the environment is killing creativity and undermining the needs and desires of the modern world.
Cynically or with conviction – it doesn't matter – the contemporary construction industry is now driven by the need to meet arbitrary sustainability criteria. Nowadays, the sustainability model is the only game in town and as a result, architecture and construction have become a tenuous eco-justification industry. Recycling (which used to be a common sense cost-saving), has now become formalized and expensive; project management now focuses on risk and feeds an over-cautious approach to development; and carbon counting is no better than bean-counting. Fetishising waste reduction has resulted in more waste paper (usually in the form of government edicts) than ever before and Approved Document L, SAP and BREEAM energy reduction calculations have wasted everyone's energies. And to cap it all, the number of eco-housing debates – about 'how', 'where', 'what' and even 'whether' we build – seem to be in inverse proportion to the number of houses being built. Hey, but we're saving the planet, so who cares? Or, more importantly, who dares criticise?
Nowadays, an environmental prefix can legitimise even the naffest of designs: after all, in today's world, 'good design' is that which promotes sustainability – logically then, sustainable design is good. Even though the moral fascism or environmentalism dictates that anyone not buying into this mantra is somehow irresponsible and in need of re-education.
Ironically, while the environmental message is everywhere, environmentalists complain that they are being ignored. They cannot understand why, in the court of King Carbon we are not all genuflecting. Look, they say, while we eco-gurus are selflessly demanding restraint, the public is flagrantly refusing to bow down. They cite our ever-increasing desire for consumer goods, our wilful use of non-renewable energy and our incorrigible demands for more cars.  Ten years ago, UK Prime Minister Tony Blair famously, suggested that sustainability included 'a new approach to transport may mean sometimes not traveling at all' which sums up the parochial kernel of environmentalism nicely. It has created a finger-pointing culture where carbon-profligate reprobates (i.e. ordinary people) are treated with a level of contempt that makes Thatcher's attack on 'feckless youth' look positively libertarian. When the head of the UK Green Building Council, David Strong points out that true 'zero-carbon' housing would mean that 'occupants lifestyles are prescribed and energy is rationed', he was only bemoaning the fact that such intrusions were 'impractical'. Is it any wonder that ordinary people like to stick two fingers up to such official contempt? As far as I'm concerned, the fact that people are rejecting the incessant, sanctimonious, environmental orthodoxy – the fact that they want 'more' – is a cause for celebration.
Environmentalism might pretend to be about changing the world but it merely hectors us about changing our lightbulbs. When environmental autocrat Jonathan Porritt deigns to tell us how many children we should have (one per family) and eco-Guardian Leo Hickman tells us how deep we should fill our baths (up to the bottom of our ribcages apparently); when ex-chancellor Gordon Brown gains kudos for telling us to switch off our stand-bys and Joseph Rowntree Foundation advocate that we save carbon by staying in one home for life; the distinction between private and public life has become horribly blurred. In such an intrusive climate, many architects have stepped over the line into social policy. And it is a misanthropic social policy at that.
Destroying creativity
For those people who think that creativity is liberated by sustainability, think again. Box-ticking has never been a creative exercise, and many people are tired of it, but the dangers of sustainability go much deeper. After all, it is the essence of sustainability that advocates minimising our footprint, reducing our impact, shrinking our presence, and diminishing our culpability in the despoliation of the planet. What a pathetic synopsis of the way environmental advocates see humanity.
This is the most dangerous aspect of environmentalism: its presumption that humanity causes harm and that its actions should be reigned in. In this way, the concept of building more becomes a focus of existential guilt rather than part of the job description. The misanthropic core of sustainability reflects a historically low point for the self-image of a creative profession. Within such a cultural malaise it's hardly surprising that there is a lack of clarity on the role of modern architecture and urbanism.
Pop into any university architecture department today and ask yourself, whatever happened to imagination: Walking Cities; intelligent homes; climatic domes; Plug-in cities; New Towns; underwater houses? Today, you are more likely to find students designing paranoid survivalist stilt houses (to escape the forthcoming sea level rises) than advocating audacious submersible architecture or daring to suggest the need for major infrastructural improvements to ensure that everyone – not just their clients – survive their forecasts for Armageddon.
And it's not just students who are victims of this depressingly isolationist cultural malaise, although it is tragic that at the very time when young people are meant to be at our most creative, they are lumbered with such prosaic concerns. Nowadays, it seems that all of our futures are driven by dystopian nightmares rather than utopian dreams. Across the globe, from Bangladesh to The Netherlands, from the Thames Gateway to New Orleans, instead of attempting to overcome natural barriers (a mindset which seems to have exemplified previous generations of architects and sums up the social role of architecture), we now have the concept of 'managed retreat' in the face of weather predictions. But if architects accept the principle that 'nature knows best' they may as well give up.
Regaining a belief in the risky business of human progress will enable humanity to have the confidence to experiment a little, and live a lot. To do that, we need to eradicate the mantra of sustainability – a pernicious and corrosive environmental doctrine that masks misanthropy, low aspirations and restraint. By removing its unthinking status as orthodoxy, we should reinstate of the notions of development, progress, experimentation and ambition in its place.
Austin Williams is the author of The Enemies of Progress: The Dangers of Sustainability" (Societas, 2008) and the founder of ManTownHUman: Manifesto Towards a New Humanism. He's also the outspoken director of the Future Cities Project and author and illustrator of Shortcuts: Essential guides for building designers.  He is interested in the implications of sustainability on the built environment and the politics of transport, primarily to challenge the culture of low horizons and to advocate increased infrastructural provision. He is critical of sustainability and supports a thoroughgoing critique of the precautionary principle.