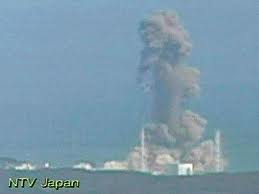 The deterioration of the situation at the Fukushima Dai-Ichi nuclear plant adds to the enormous problems already facing the Japanese people in the aftermath of a massive disaster in winter. This article attempts to assess the future of nuclear in the light of recent developments in Japan.
Preparedness:
Japan is a modern economy in an earthquake zone, part of the ring of fire. In many ways their disaster preparations are admirable (Let's keep the Japanese earthquake in perspective). So, of course they are relatively far better off than was Haiti.
Nevertheless, they were not as well prepared as they could have been. Ishibashi Katsuhiko was a member of the expert panel that developed new seismic design guidelines, but resigned in August 2006 because his warnings were ignored. (Why Worry? Japan's Nuclear Plants at Grave Risk From Quake Damage)
Technical:
Barry Brook has run an informative series of articles at his pro-nuclear site Brave New Climate assessing the situation. Initially he predicted that there was "no credible risk of a serious accident" but has now admitted that he was wrong:
In sum, this accident is now significantly more severe than Three Mile Island in 1979. It resulted from a unique combination of failures to plant systems caused by the tsunami, and the broad destruction of infrastructure for water and electricity supply which would normally be reestablished within a day or two following a reactor accident
– Fukushima Nuclear Accident – 17 March update
The older nuclear reactors have not displayed disaster proof safety capabilities. Extending the lifetimes of existing plants is not the way to go. In response to the Japanese experience, Germany has shut down seven of the country's seventeen nuclear power plants for an indefinite period, the seven plants built before 1980. (Nuclear Moratorium in Germany Could Cause Spike in CO2 Emissions)
Cost:
Pro nuclear advocates (including myself) have previously argued that regulatory costs are artificially high. This may still be true in some respects but there is no getting around the fact that these costs will now increase.
Nuclear is already more expensive than coal and will remain so in the absence of new technological innovation.
Political:
Fear of nuclear was already a big factor in selling it politically. Although much of the media coverage has been over hyped and not well informed technically there is no doubt that public opinion against nuclear will increase given the real failure of nuclear safety in Japan.
Nuclear will not go away, however. We need more energy. Global warming is real. Renewables can't do the job. in the wake of the Japanese disaster, India and China have already announced their intention to proceed with nuclear. (Nuclear Power in not going away). An Editorial in The Guardian (Nuclear power: After the flood) argued for the need to build new, safer nuclear plants, and not extend the life of old plants.
The solution:
The best solution is a massive increase in R&D funding into alternative energy sources to fossil fuels, including nuclear, with a view to reducing their cost to the equivalent or less than coal.