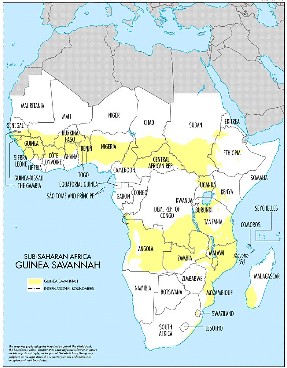 Bigger version of map here
I was struck by an announcement from the World Bank about a book called Awakening Africa's Sleeping Giant: Prospects for Commercial Agriculture in the Guinea Savannah Zone and Beyond that they have co-authored with the UN Food and Agriculture Organization
They are basically saying that if Sub-Saharan Africa can do in the vast Guinea Savannah zone what Brazil has done in the Cerrado and Thailand in its Northeast Region, it can vastly increase agricultural production.
Shown in yellow on the map, it is comparable in size to the EU, or half of Australia, Canada or the 48  States. Currently only about 10 per cent is used to grow crops. (source)
Agriculture has to expand dramatically if they are to become a net exporter of agricultural products while managing with a population  that is expected to increase from 800 million to 1.5 billion before stabilizing later this century.
To me that looks like the need for a fivefold increase in output.  There would have to be at least a two-fold increase in per capita food consumption if the people of the region are to chow down much like everyone else.  Then they have to reverse their current position as a net importer.
Political and economic conditions will dictate the pace of this and other development in the continent. We can expect the greens and "NGOs" to run interference.
There is no free pdf version of the book. This is typical of the World Bank and UN agencies.