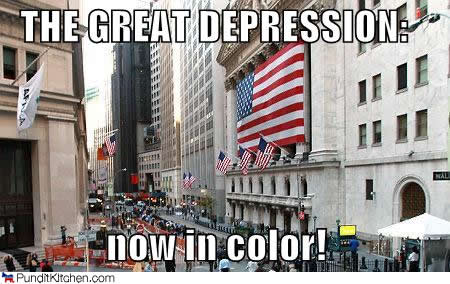 Summary of a couple of articles by Ken Rogoff, a former chief economist at the IMF. Note that the second article was written in 2008. As always, read the originals.
The Second Great Contraction by Ken Rogoff (2nd August 2011)
What is the difference between a Great Contraction and a Great Recession? A recession involves decreased output and decreased employment. A contraction or deep financial crisis also involves massive debt and credit issues which requires deleveraging, which take years to complete.
The real problem or number one problem is that the global economy is badly overleveraged, there is too much debt.
The solution is to transfer wealth from creditors to debtors. How?
Through defaults, financial repression or inflation
Housing: Write down mortages in exchange for a share of future home price appreciation
Countries: Rich countries in Europe fund a larger bailout of Greece in return for higher payments in 10 to 15 years time if Greece achieves growth by then
Inflation is Now the Lesser Evil by Ken Rogoff (2nd December 2008)
Modern finance is so interwoven and complex that it is impossible to restructure one financial institution at a time.
Moderate inflation (6% for 2 years) would ameliorate but not solve current problems
Policy suggestions:
aggressive macroeconomic stimulus
tax cuts
infrastructure spending
interest rates reduced to zero
Most of the world's largest banks are insolvent! Further defaults are bound to occur in real estate, credit cards, private equity and hedge funds. Governments will have to carry out 2nd and 3rd recapitalization.
The hole in the financial system is too big to be filled by taxpayer dollars. More Banks should be allowed to fail but this is costly and painful. Housing prices need to fall another 15% in the USA and more in Spain, UK and others.
Central Banks will keep printing money to buy government debt. The main danger will be an inflation overshoot, 20-30%.