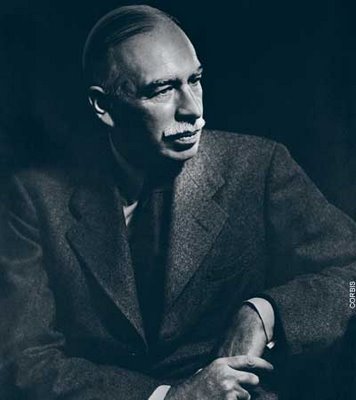 John Maynard Keynes (1883 – 1946)
It seems like a good idea to focus Keynes discussion in one thread since it has already begun in other threads, particularly marx and the domains of ignorance.
What is the Keynes solution to economic crisis?
… a relatively painless route to recovery is offered by loan-financed public investment, increased government spending generating the income that, through increased tax revenue and savings, will provide the resources to finance the increase in expenditure and that will justify the expansion of the money supply required to fund the initial deficit
– Keynesianism, Monetarism and the Crisis of the State by Simon Clarke, p. 238 (source)
Of course, this is open to interpretation.
His original main work is: The General Theory of Employment, Interest and Money by John Maynard Keynes (1936)
Lupin3 has suggested we read: Mr. Keynes and the Moderns by Paul Krugman
Please post your questions about Keynes, Keynes references and Keynes analysis here.