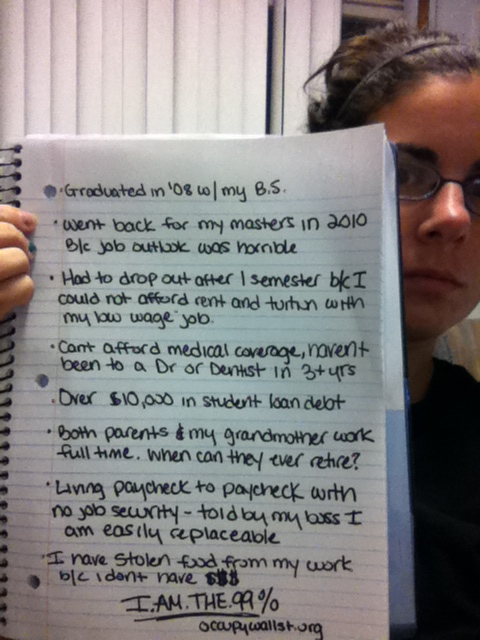 Seven hundred arrested in Wall Street protest. I went to the Occupy Wall Street site with hope but quickly became disillusioned. Leadership is hard but for a movement to promote itself as "leaderless" is sad and to hear people in the video clips argue the case for no leadership is torture.
On the other hand, the We are the 99 percent blog format is great. Each blog post is from a person describing their situation, how they are being screwed by the system. Read some of these stories. The format is simple, effective, hard hitting. The capitalist system is broken for a growing number.
This page from the Occupy Wall Street site outlines various "demands", from Day 5, brainstormed like confetti without any analysis or overall direction. At the end we were told: "Our use of the one demand is a rhetorical device. This is NOT an official list of demands". In the paragraph immediately preceding this obsfuscation we were further enlightened: "We speak as one". I read this a few days ago. On revisiting the page now I notice that some of the contradiction has been removed.
This Spiked article, Is this Monty Python's Occupy Wall Street?, lampoons the whole thing as ridiculous (subtitle: "The surreal protests in New York's financial district will certainly leave the system shaking. With laughter"). And certainly some aspects of the protest are ridiculous. For example, the reluctance to use megaphones or microphones apparently because they represent hierarchy. People speak and those that hear them repeat their words so that those further away can hear. There is always a new creative twist to dysfunctional ultra democracy.
Following the 700 arrests on the Brooklyn Bridge there was more publicity and some trade unions, such as the Transport Workers Union, joined in the protest. Can "Occupy Wall Street" become a movement? Hippies at one extreme, disciplined trade unions at the other. But of course similar alliances were formed in the anti-Vietnam war protests. The protest is spreading.
The lack of correlation between The Tea Party / Republicans and Occupy Wall Street / Democrats is an interesting one. Given the underlying reality that The Democrats are in bed with Wall Street then they can't really incorporate this protest into their agenda so it is an embarrassment to them. In one sense the protest represents an end to the dream that formerly iconic progressive Obama can fix America. (Why Occupy Wall Street and Democrats aren't natural allies)
It is becoming obvious that the system is broken, that the crisis is only beginning. Hence, despite the non leadership this remains a protest that has attracted widespread support, including sympathy from the media. One Guardian reporter concluded:
This city is chocka-block with Job's comforters who purport to share the protesters' disgust with high finance and unjust wealth distribution – and then bash them for their lack of focus. But the protesters understand something they do not: there is no Mubarak to be toppled, a single source of injustice that can be stamped out if only we all band together. There is only a diffuse political and economic system in which they – and, if you believe the slogan, 99% of us – are net losers; and before it can be redressed, it must first be exposed
– Occupy Wall Street: more than the sum of its demands
This is a beginning. The transition from no leadership as a virtue to the real need to figure out how the system is broken and whether it is even possible to fix it is underway.