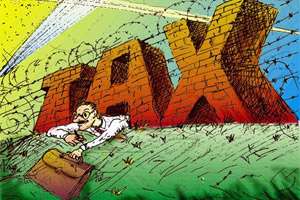 On the Keynes thread, Arthur initiated a wealth tax discussion and provided some wikipedia links:
On the need for a positive program I would suggest a separate topic on "wealth tax". Wikipedia has some good starting points which link to useful statistics:

Wealth_inequality_in_the_United_States

Unlike the usual Keynesian stuff, reformist proposals for wealth taxes have the benefit of actually providing a plausible solution to budgetary crises and sharply raising the property question since revolutionaries can propose steep progression from the insignificant rates currently contemplated to actual expropriation.

Major arguments against are:

1. High cost of administration (but this cost is necessary to facilitate future expropriation by having detailed records of ownership etc).

2. Capital flight, which leads directly to other "antiquated" demands from the Communist Manifesto like confiscation of the property of emigrants and rebels.