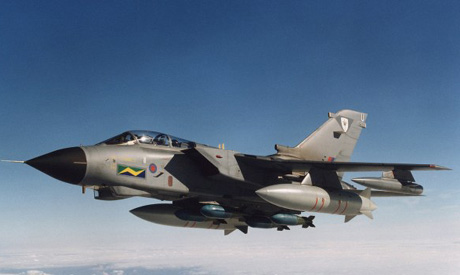 The UN Security Council has approved a "no fly zone" over Libya and more importantly authorizing "all necessary measure" (ie. direct attacks against Gaddafi's forces) to protect civilians, by a vote of 10 in favour with 5 abstentions (Brazil, China, Germany, India, Russian Federation). The resolution excludes "a foreign occupation force of any form on any part of Libyan territory"
NB. This morning France stated that the resolution did not rule out an invasion by foreign troops. An invasion is not the same as an occupation. (20/3/2011 10:57 pm clarification by BK: This was heard on the radio in the early hours but I have been unable to confirm it through googling. It is true however that the resolution does allow for attacks on Gaddafi's ground troops and that operations by foot soldiers are also not specifically ruled out)
The UN delegates referred repeatedly to the Arab League's call for a no fly zone.
Speaking before the vote, Alain Juppe, Minister for Foreign Affairs of France, said the world was experiencing "a wave of great revolutions that would change the course of history", as people throughout North Africa and the Middle East were calling for "a breath of fresh air", for freedom of expression and democracy.  Such calls for democratic transition had echoed thro­ugh Tunisia, Egypt and Morocco.  Everyone had witnessed the events with great hope and he believed "this new Arab springtime is good news for all".  The changes required the international community not to "give lessons", but to help the people of those countries build a new future.
FOREIGN INTERVENTION PROGRESSIVE and ESSENTIAL
Libya is a largely urban country with 85% of pe­ople living in its two large and about twenty smaller cities and towns. The democratic rebels have control of the eastern towns and the second largest city Benghazi as well as substantially unarmed but very widespread support in the west. They currently have, compared to the undemocratic Gaddafi forces, a reasonably small, badly organized and poorly trained army with virtually no 'airforce' and only tiny naval forces that exist under the protection of western navies.
Without foreign intervention Gaddafi can't be dealt with in anything like a timely manner. He would win in the short term. His army will however be routed once his air power, tanks and armoured vehicles are denied to him.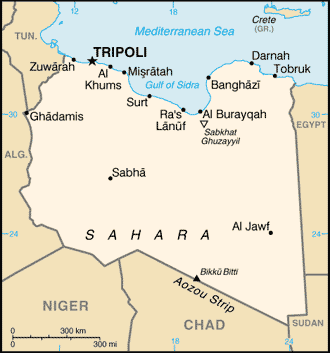 Gaddafi has already lost Libya. He can only hold Tripoli and the highway east only so far (he can't for example ever again send his forces to the Egyptian border) and he can not hold that territory that he does indefinitely. Eventually, he won't be able to hold the outlying eastern end and a more or less rapid withdrawal west will unfold. Everyone interested in this would already have read up on the WW2 forward and backward fighting. Gaddafi understands this perfectly well.